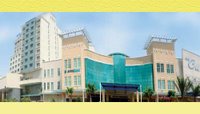 My family spent the week-end in KL as it was a family gathering to celebrate my mother-in-law's 85th birthday.
We stayed in a spanking new hotel in Damansara within walking distance to major shopping centers like IKEA and TESCO.
My son-in-law checked in for us earlier as we were going to arrive later at night.
When we arrived he explained that in order to access the floor we were allocated, the key card had to be inserted in the control lift panel.
It was a limited security feature as others could also enter the lift and access other floor without a card.
The next day, we decided to ask for a spare key. The conversation went like this.
Wife: " Can I please have a spare key?"
Front desk(Fd): "What room are you in?"
Wife: "414"
Fd: " Is that under Mr XYZ?"
Wife: "Yes."
And with that simple exchange, my wife was able to get the spare key for the room.
I am also sending this message to the hotel so hopefully someone there will note the serious breach of security protocol.